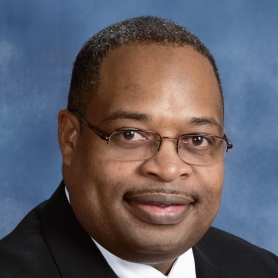 The son of Irvin and Margie Ovide Washington grew up in Donaldsonville, LA. He is the youngest of four children. At an early age, he had an interest in the music ministry.  Reverend Washington accepted Christ and was baptized by Reverend Victor Pedescleaux at St. Phillip Baptist Church in Modest, LA. He served as Music Minister.  He served as VBS Director, Sunday School Superintendent, Pastor Support President, Youth Department Director and Associate Minister.
Reverend Washington's twenty and a half years employment has been with Ascension Parish School Board. He serves as Coordinator of Truancy and Homeless Data Coordinator.  He received his calling at St. Phillip and First Israel Baptist Church.  He received his license on February 7, 2010 under Reverend Irving Brown Jr.  He was ordained by the Louisiana Baptist Association on August 20, 2010.  Reverend Washington became pastor of Bright Morning Star Baptist Church of Napoleonville, LA on August 25, 2013.
He is the proud husband of Dana Watkins Washington, who he considers his friend.  They are the proud parents of Courtney F. Washington, Chelcy D. Washington, and the late Cleveland A. Washington, Jr.